Past Event
Front Row to the Biotech Revolution: The Many Paths of Life Science Entrepreneurship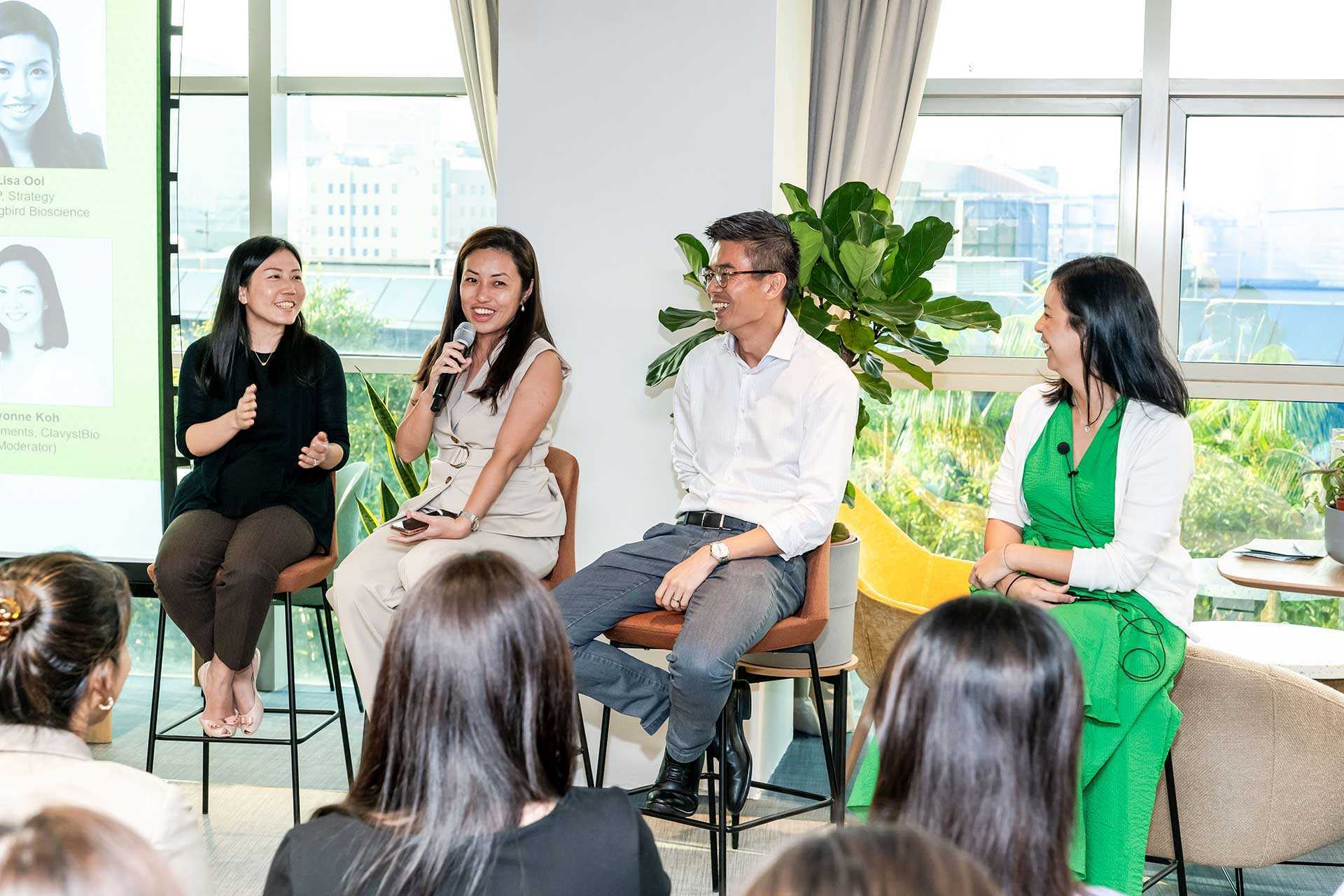 Date & Time
28 June 2023 | 5.00 PM - 8.00 PM
Venue
CVB Node 1, 79 Science Park Dr, #04-05 Cintech IV, Singapore Science Park 1, Singapore 118264
Directions
About This Event
We tend to only think about founders and CEOs when we think about entrepreneurship. But building a venture takes an entire team of individuals with very different skillsets and strengths. In this panel, executives shared their experiences making the career jump to working in a biotech startup from the public sector and big pharma, and discussed the many opportunities out there in the life science entrepreneurship ecosystem.

About the Panellists:
Lewis Hong, Senior Director, Paratus Sciences
Lewis enjoys working at the interface of biology and technology, building high-performing teams that are empowered to make significant contributions to human health. In his role at Paratus Sciences, Lewis is responsible for drug discovery and operations the Singapore R&D site. He was previously at MSD (known as Merck in the US and Canada), leading a team in genome and biomarker sciences that supported drug discovery programs and clinical biomarker studies in the Cardio-Metabolic and Oncology disease areas. Lewis began his career at the A*STAR Institute of Molecular and Cell Biology.
Lisa Ooi, Vice President of Strategy, Hummingbird Bioscience
Lisa has more than 18 years of experience in the biomedical industry in the areas of oncology/hematology, oncology biomarker development, clinical pharmacology, preclinical and clinical development, as well as large-scale private and public research partnerships and investment promotion. She has previously worked at the Singapore Economic Development Board, ASLAN Pharmaceuticals, Bayer Healthcare, the Agency for Science Technology and Research (A*STAR), and served on the boards of multiple biomedical entities such as Precision Health Research, Singapore (PRECISE) and the Singapore Clinical Research Institute (SCRI).
Ying Xim Tan, Director of Discovery Operations, Medisix Therapeutics
Ying Xim leads the Discovery team's research efforts at Medisix Therapeutics. She joined the company in 2018 as a Research Scientist, and was a key driver in guiding the successful transition of its lead asset from discovery to development. Ying Xim was previously a Research Fellow at the Institute of Molecular and Cell Biology, studying the role of methytransferases in liver biology and cancer.
Yvonne Koh, Vice President of Investments & New Ventures, ClavystBio (Moderator)
Yvonne brings a unique blend of commercial and public sector experience to investing and venture building at ClavystBio. Her multi-faceted career includes roles in venture capital investing, business strategy, product development, technology commercialization, and innovation policy across the biotech and medtech sectors. Yvonne was previously at Lightstone Ventures (LSV) and prior to that, was Deputy Director at the National Research Foundation where she led the development and implementation of Singapore's innovation strategy.
This event is jointly brought to you by ClavystBio and Biotech Connection Singapore.


Back to Events