Past Event
Growing Biotechs Through Public Private Partnerships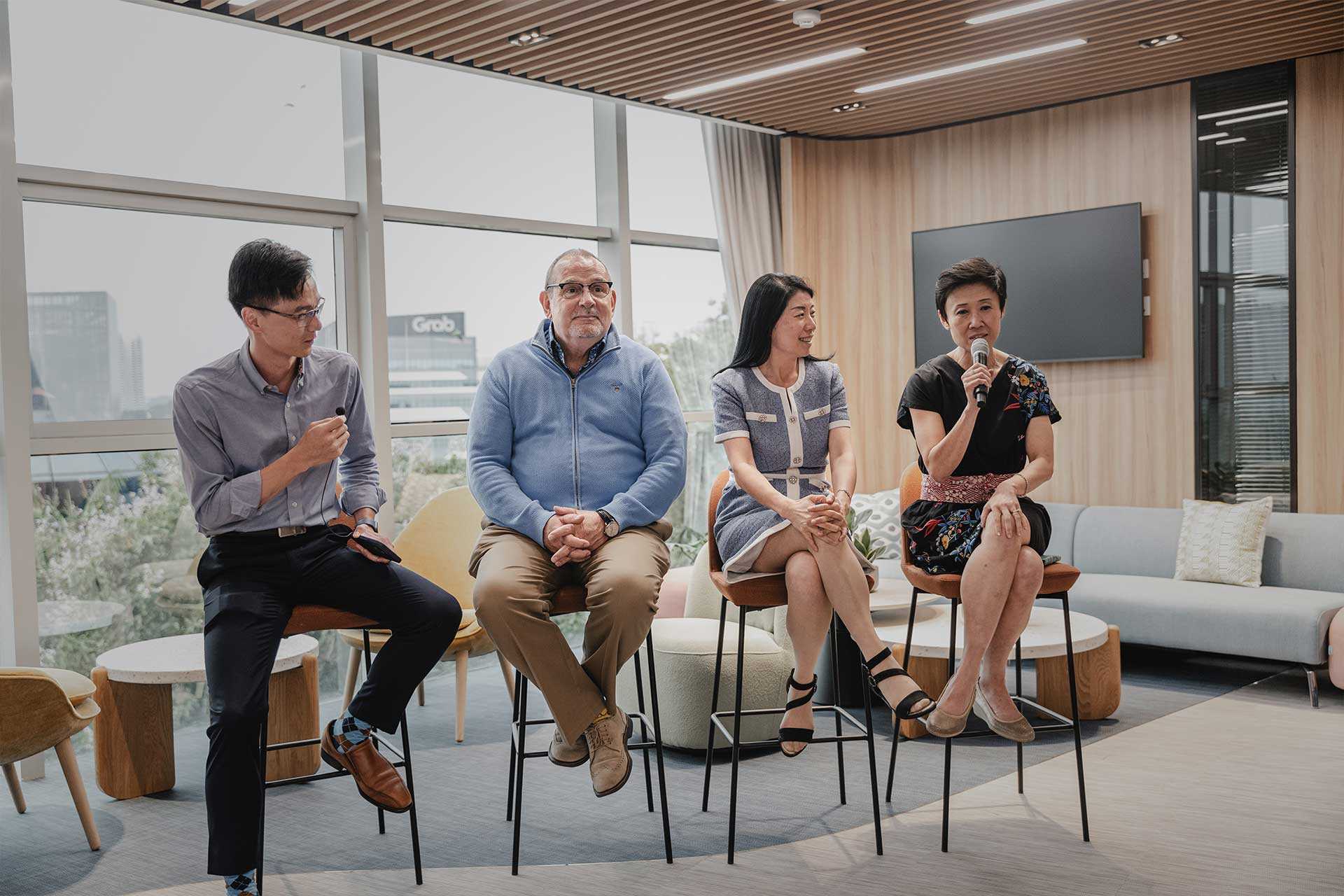 Date & Time
05 September 2023 | 5.00 PM - 8.00 PM
Venue
Node 1, 79 Science Park Drive, Cintech IV, Singapore 118264
Directions
About This Event
Healthcare and life science are industries where public private partnership is essential - be it about R&D collaborations, securing non-dilutive funding or accelerating commercialization. In this panel, speakers got candid about their experiences in finding the right partners, navigating the hurdles and how to move forward when plans go awry.
Irene Cheong, Executive Director, A*STAR Innovation and Enterprise
Irene leads Human Health & Potential and the Venture Creation & Growth teams at A*Star Innovation and Enterprise (I&E) Division. Her teams work closely with our scientists to enable deep tech start up formation and win-win partnerships with industry that result in technology translation and commercialization. Before joining A*Star, Ms Cheong led the Industry Liaison Office (ILO), which is the commercialisation and business development arm of the National University of Singapore (NUS). She drove deep tech start up acceleration programmes, industry consortiums as well as managed intellectual property for licensing for NUS and partners. She also has international experience from industry, government and venture capital- having worked locally, in the USA and in Europe.
Kathy He, CEO and Board member at Cargene Biopharma Inc
Kathy is the Chief Executive Officer and Board member at Cargene Biopharma Inc,an innovative biotech leveraging novel biology and chemistry insights to develop highly specific, stable and potent nucleic acid therapeutics for liver and ophthalmic diseases. Ms. He has over 20 years of R&D and commercial experience from global pharma companies such as Abbott, Merck and Takeda, notably in building differentiated product portfolios, developing strategic opportunities, and successfully bringing innovative therapeutics to market. Prior to joining Cargene, Ms. He was the Chief Business Officer (CBO) and General Manager at Kira Pharmaceuticals, where she led the closing of its $60M Series B+ round of financing by top tier global investors and CBO and Head of Corporate Development at Abbisko Therapeutics (HKEx stock code: 02256), where she raised over $100M and closed a series of cross-border strategic partnerships. In addition to her extensive operating experience, Kathy also worked as a Venture Partner and Managing Director at top tier investment firms in China. Kathy received a BS degree in biology from Wuhan University, a MS in molecular biology from University of Illinois at Urbana-Champaign, and MBA from Kellogg School of Management at Northwestern University. She is currently a board member of Diagnostic Photonics, an innovative medical device company, a former trustee of Illinois Mathematics and Science Academy, and an immediate past board member of the BayHelix Group, a non-profit professional organization for business leaders in life sciences and healthcare industries.
Dr Stephen Hess Stephen brings over 30 years of experience in successful drug discovery to Singapore as Evotec's Expert in Residence for 65LAB. He works closely with 65LABs academic institutions and investors to identify novel academic drug discovery opportunities suitable for 65LAB support, with a view to creating and growing innovative new biotech companies in Singapore.
Stephen has held senior scientific roles at Evotec in Hamburg, Germany since 2012, including Research Leader in the In Vitro Pharmacology department where he focused on integrated drug discovery collaborations. Prior to Evotec, Stephen's drug discovery and assay development experience spans roles at Millipore, Invitrogen, Merck & Co and SIBIA Neurosciences in the US. Stephen has worked across multiple disease areas over the course of his career, including neurodegenerative disease, pain and immune disorders. He has also supported the progression of therapeutic candidates into late-stage clinical trials, and has particular expertise in ion channels and GPCRs. Stephen obtained a BS in Zoology, and MS and PhD in Biology, and undertook postdoctoral studies in the US.
Dr Koh Fong Ming, Investment Principal at LYFE Capital
Fong Ming is an Investment Principal at LYFE Capital, a global healthcare venture capital firm investing across the entire healthcare value chain, with portfolio companies in biopharmaceuticals, medical devices, diagnostics and beyond. Prior to joining LYFE, Fong Ming was the Head of Life Sciences at Heritas Capital, a Singapore-based healthcare-focused impact fund manager. A developmental biologist by training, he has extensive research experience spanning pluripotent stem cells, epigenetics and cancer. Dr Koh received his Ph.D. in Biomedical Sciences from the University of California, San Francisco.
This event is jointly organised by ClavystBio and Biotech Connection Singapore, and supported by SGInnovate.
Back to Events